The photograph below may baffle at first, because it is both familiar and unfamiliar. It is, of course, the First Dáil, meeting in the Mansion House in 1919, but it is not the usual photograph, reproduced many times since, it is one belonging to my late grandmother, Julia. Many of the faces will be familiar, deValera, sitting in centre of the front row, Arthur Griffith beside him, and many others. The man standing behind Dev, to the right as you look at it, in a natty coat with a velvet collar will not be so familiar, but it is my grandfather, Michael Staines.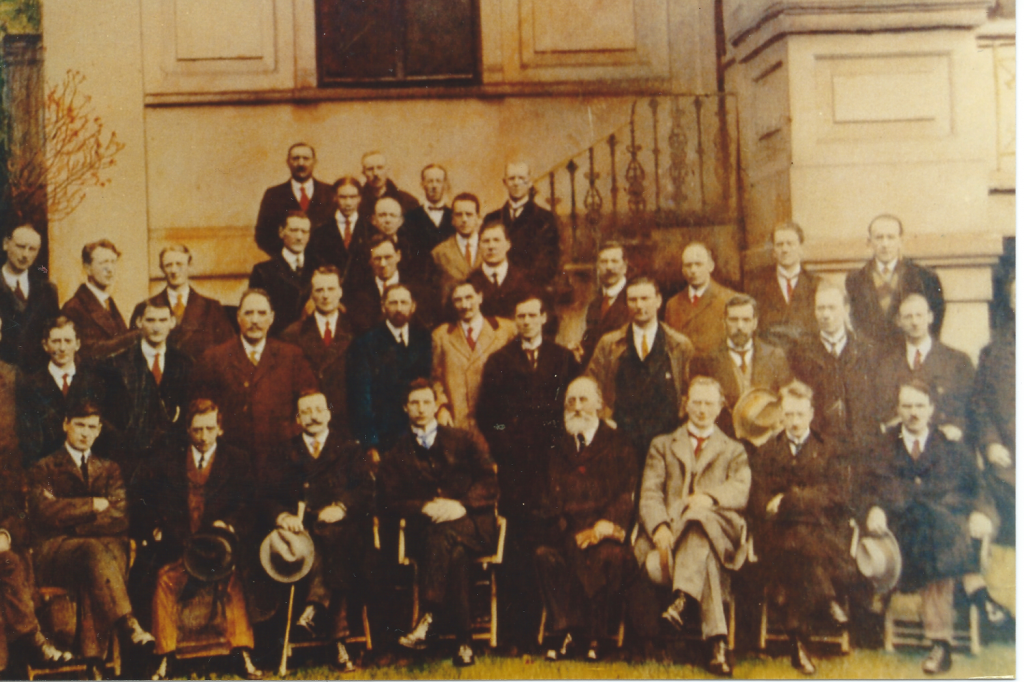 Here's another photograph of him, from a few years earlier.
The uniform may look strange too, I believe it to be his Irish volunteers uniform. We don't know when this was taken, but it may well have been only a few weeks before the rising of Easter 1916.
It's now the vigil of Easter Sunday and in a few hours I will stand outside the GPO to commemorate his actions and those of the other, but of course the word matters – the other what? Heroes, terrorists, freedom-fighters, murderers, patriots, an endless spiral of antonyms, which may say more about the writers than the reality. The rising happened and I think it changed the path of our history both for good and for ill.
In 1916 my grandfather fought in the GPO. Among other actions he brought weapons, cut the telegraph lines, shot at people, raised a flag, and eventually carried the wounded James Conolly out. Three of his brothers fought with him. A fourth died fighting in the Royal Navy later in World War 1. In 2016, in a world he would hardly have recognized, I will stand and watch a parade go by. In many ways he contributed to the world I live in, as a fighter both in the War of Independence and the Civil War (Free State), as a TD, as the founder of the guards, as an alderman, and as a senator.
I think we need to remember what happened as truly as we can. When I went to Trinity in 1978, I found one item that intrigued me, tucked away on a wall insude the Nassau strret side of Trinity. It was a memorial plaque to a young man, a liitle older than I who had died there in 1916. Such plaques were and are common around Dublin. What made this one different was that this young man was a British soldier Pte. Arthur Smith a Hussar from Hexham. I felt then, and still feel that this was the right thing to do. Would my grandfather have approved? I have no idea, but he died sixty years ago.
There is an association, called the Relatives of 1916, who have taken umbrage at the proposal to list all of those who died in the Rising and afterwards in Glasnevin cemetery. Leaving aside the question of how this group can speak for all of us, without asking us first, I think they are wrong, just as the activists from Misneach who scribbled on John Redmond's banner  in College Green were wrong.
No one owns the Easter rising. No one owns the dead. There were no first class and second class deaths in 1916, so let us remember them all equally.